Catering Services in Kenya
We offer delicious and affordable outside catering services in Kenya
Welcome to Bestcare Services, your premier provider of top-quality catering services in Nairobi, Kenya. We offer a wide range of catering services to cater for all your needs, including corporate events, weddings, private parties, and more. With years of experience in the industry, our team of skilled chefs and event coordinators is committed to providing you with exceptional service and exquisite cuisine that will leave a lasting impression on your guests.
We understand that planning an event can be stressful and time-consuming, which is why we offer a comprehensive range of catering services that are tailored to meet your specific needs. Whether you need a simple buffet or a full-service gourmet meal, we have you covered. Our team will work with you every step of the way to ensure that your event is a success, from menu planning to event setup and cleanup.
At Bestcare Services, we pride ourselves on using only the freshest ingredients in our dishes, ensuring that every bite is bursting with flavor. Our team of experienced chefs is dedicated to creating delicious and visually stunning cuisine that will leave your guests impressed. We offer a wide range of menu options to cater to all dietary needs, including vegetarian, gluten-free, and halal.
At Bestcare Services, we understand the importance of delivering exceptional service to our clients. We take pride in our ability to provide top-quality catering services that are customized to meet your specific needs. We are committed to ensuring that your event is a success, and we will go above and beyond to ensure that every detail is taken care of.
How much does catering services in Nairobi cost?
The cost of catering services in Nairobi varies depending on the number of guests, menu options, service style, and other factors. It is important to discuss pricing with the catering service provider before booking.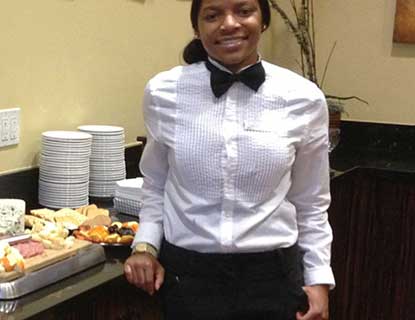 A delicious and tasty meal is what every person looks forward to when attending any event. Whether it is your wedding, a party, your kid's birthday, company event, anniversary, a get together or a ceremony, we will ensure you get the best catering services possible.
We offer high end, delicious and affordable outside catering services in Nairobi and surrounding areas.
We are not just caterers, we help in every activity in your ceremony during the actual day. We will assist you to come up with a concept, plan, and budget for that special day.
Designing and managing events requires creativity and expertise to guarantee success. Our professional staff possess just that and more and guarantees quality and reliable service provisions.
You can count on us as a reliable catering partner for your business meetings, dinners, picnics, weddings, anniversaries and corporate events. We will always meet the needs and demands of your event and make it as enjoyable as it ought to be.
Frequently Asked Questions
What are catering services?
Catering services are professional services that offer food and beverage preparation, presentation, and delivery for various events.
What kind of events do your catering services cover?
Our services cover a wide range of events such as weddings, corporate events, conferences, private parties, and other special occasions.
How do I choose a catering service in Nairobi?
You can choose a catering service in Nairobi by considering their experience, reputation, menu options, pricing, and customer service.
What kind of food options are available for catering services in Nairobi?
Catering services in Nairobi offer a diverse range of food options, including traditional Kenyan dishes, international cuisine, vegetarian and vegan options, and gluten-free options.
What are the benefits of hiring a catering service in Nairobi?
Hiring a catering service in Nairobi saves you time, effort, and stress in planning and preparing food for your event. They also offer professional service that enhances the overall guest experience.
Can your catering services accommodate dietary restrictions?
Yes, we can accommodate dietary restrictions such as vegetarian, vegan, gluten-free, and other dietary needs upon request.
Are you looking for reliable Catering Services?
Get In Touch!
(+254) 725 548 383 / (+254) 722 566 999 /
info@bestcareservices.co.ke